Your home's foundation must be solid and basement underpinning can help your foundation structure stay secure and avoid cracks or leaks. This base, serves as the foundation for your home's structural framing and basement walls. If there is evidence that your basement is compromised, you should consider a
foundation repair
. However, if you plan to renovate and add a story to your home, you should talk to a foundation expert about a basement underpinning project. Our experienced contractors can determine whether your home requires basement underpinning in Toronto as an affordable solution to your needs. 
Causes of Basement Problems
Subsidence is described as
the sinking of the ground
because of underground movements usually due to excavation or mining of natural resources (water, gas, oil, minerals). When this occurs the underground subsoil around your basement can move, pulling away from the foundation. The soil in Toronto and the surrounding GTA is predominantly
Luvisol
, which is a mix of sand and clay. Foundations built on expanding clay are especially vulnerable to soil failure or weak foundations. A house may be built inadequately with lower quality building materials, or the basement foundation was  back filled improperly, or the drainage system near the basement footings may fail. Extreme seasonal fluctuations are another cause of the sinking or flooding.

WHAT IS BASEMENT UNDERPINNING?
Basement underpinning (basement lowering) is the process of removing soil below a crawlspace or concrete slab, excavating the area to create a lower support level and then adding new concrete footers, walls and floor to extend the depth or reinforce an unstable foundation.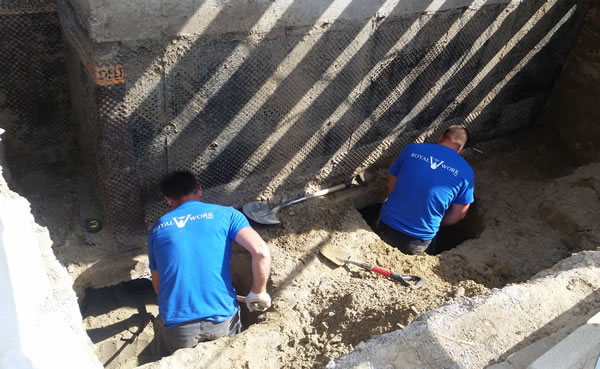 This worthwhile home improvement requires professional expertise in foundation walls, excavation, footings and
concrete
floor replacement.
Royal Work Corp
. will do a careful evaluation of the
foundation
and surrounding area to determine job and building code requirements related to excavation depth, plumbing and electrical re-routing, and concrete work.
The process of underpinning or basement lowering is done for a number of reasons: A homeowner may want to convert a crawl space or unfinished basement floor into a livable space, and the size or basement ceiling might be too small. A new finished basement would require additional support, and the basement lowering process can give you extra space, while underpinning can increase your load capacity.
DESIGN STAGE
With the initial evaluation complete and your goals established, an engineer and architect will be brought in to design the new space. These experts will draw plans that detail moving and extending load-bearing walls required with this project. They will submit stamped drawings to the local municipality to obtain the necessary building permits before any work begins.
SITE PREPARATION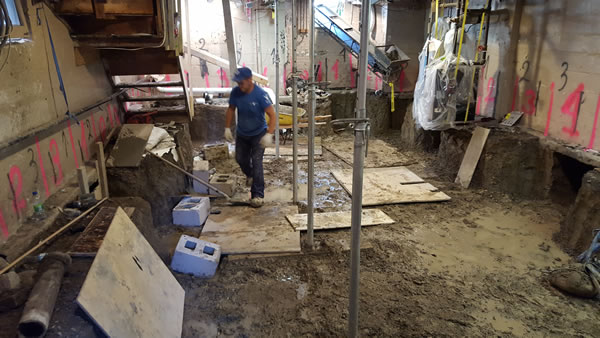 After plans are complete and permits issued, the site must be prepared for construction. Furnace connections must be re-routed to move all ductwork and equipment out of the way. The next phase requires technicians to install temporary supports or vertical jacks to hold the home or commercial building in place while the underpinning is being done. Wooden boards or steel beams are used to disburse the weight of the structure and are removed once the project is complete.
LOWERING THE BASEMENT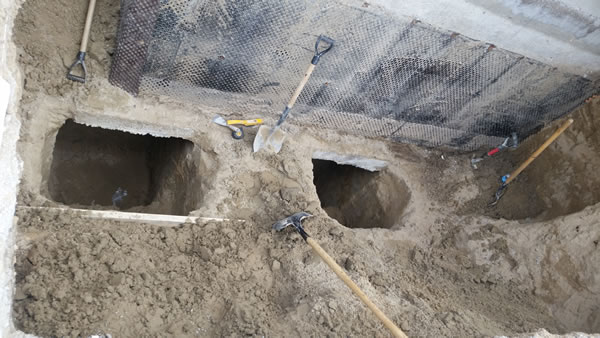 There are several methods for completing the underpinning process, depending on the purpose for the project. The Traditional Mass method is used for shallow underpinning. In this instance, the soil underneath the foundation isn't strong enough to support the home. The weak soil is excavated and replaced with mass concrete. This provides both strength and a more efficient distribution of weight. The Beam and Base method utilizes the traditional mass base but also incorporates concrete beams. These are constructed underneath the concrete base to spread the load evenly for better support. A third method called Mini-piled underpinning allows the structure to rest on stable ground of 5 to 15 meters below the current footers. Piles are constructed and cased in steel. The 15 cm to 30 cm piles are driven into pre-drilled holes to rest on more stable ground.

The fourth and more aesthetic purpose for basement underpinning requires the existing concrete floor to be removed. The soil is excavated in sections, filled with concrete and small gaps are left between the old and new concrete. Non-shrink grout is used to fill the area in each section.
FINISHING THE JOB RIGHT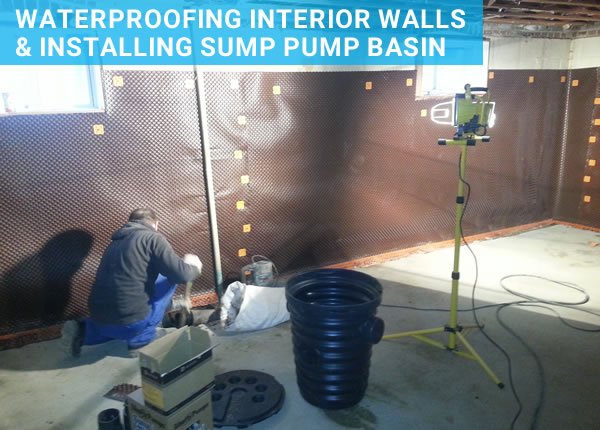 Regardless of which type of basement underpinning is done, once the process is completed, the old plumbing problems can be fixed with new plumbing installed. Our experts will now
install a waterproofing system
to keep the area dry. A waterproofing membrane is added to prevent water infiltration from the outside. The exposed foundation walls are then backfilled. It's now time to waterproof the interior of the basement. An internal weeping tile system is placed around the entire perimeter of the room, below floor level. This drainage pipe will capture ground water and re-route it to a newly installed
sump pump
that will safely discharge outside. A layer of gravel covers the entire floor area and will provide a secure base for the new concrete floor.






Benefits of Basement Underpinning
Although their is a cost, basement underpinning might be essential and worth the investment. Things happen from time to time that cause the foundation to become less stable.
There are many possible causes for this, including the natural deterioration of the foundation as a house age, as well as poor workmanship, damage from other repairs, climate change, soil change, and events such as a flood or an earthquake. You can save your basement against flooding. 
Another possibility is adding an addition to the house, which places additional strain on the foundation. These events may cause the foundation to shift, rendering it incapable of properly supporting the house.
Once underpinning is completed, the likelihood of major structural issues is reduced. In the most basic terms, you are guaranteeing that the foundation of your home is stronger, safer, and has a longer lifespan. 
Underpinning can also be used to increase the amount of living space in your property. It's becoming more popular as a way to obtain extra square footage, particularly in older homes.
Many older homes were never designed with the goal of utilizing the basement for residential living purposes. Basements were only used for storage, such as coal storage, oil tanks, or produce chill cellars. 
If you need more space but don't want to move, underpinning is a good option to consider. Underpinning is a great choice to consider when looking for a way to add the additional room you require, and the potential uses for this additional area are virtually limitless.
You can use an underpinning basement for a spare bedroom, office, playroom, entertainment room, or in-law suite. Many homeowners are now using underpinning to build an apartment that they can rent out as a secondary source of income.
PROTECTING YOUR HOME INVESTMENT
This project is quite extensive and will require a substantial investment of time. At each stage of construction, time must be allowed to completely cure each concrete pour area. This will ensure the proper tensile strength is reached before removing the temporary supports and adding a load. While the Royal Work technicians will work hard to complete the job with as little disruption as possible, there may be some inconvenience during the labor-intensive portion of the project.
Any time extensive underpinning or structure removal is required, it's very important to contact a professional like Royal Work Corp. to prevent damage to the home. Our team is trained in all methods and have helped hundreds of homeowners in Toronto and the GTA area expand their living space or strengthen their foundation safely and efficiently.
Call us today
for more information, to schedule a free on-site inspection and estimate.