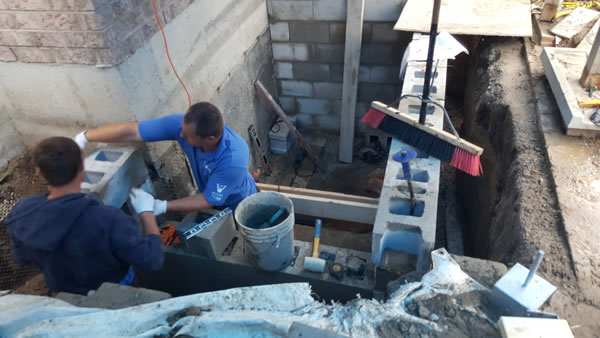 With foundation cracks, or spots, that are discolored, it is best to hire professionals who have experience with these types of repairs. A healthy, well maintained foundation is crucial for the health of your entire home.
So how you can tell if a problem may turn into something bigger? There are certain things to look for on the inside and outside of your foundation and basement that require an inspection by a licensed contractor:
Cracks on the outside of your foundation. External cracks lead to leaks and they get worse over time.
Moisture or mildew problems. A moldy smell in a basement, or visible signs of mold and fungus may indicate that the waterproof membrane barriers covering the inside, and outside, of the foundation have been breached. The problem will only spread if the waterproofing materials are not replaced.
Any spots on the foundation walls that seem to be crumbling. Concrete that's crumbling is no longer strong enough to withstand hydrostatic pressure from the outside. Additionally, concrete that has weakened creates a safety threat to the entire building structure.
Interior cracks in the sheetrock and drywall – these may have started on the outside and have worked their way in. This can also indicate a weakening of the concrete foundation from expanding and contracting with temperature extremes – or a shift in the backfill. Once moisture is getting past the foundation walls – it spreads to the inside building materials and shows up as cracks and leaks.
Water stains by the baseboards or up by the ceiling. This type of leak may indicate a void in the foundation between the basement footings and the foundation wall, or the foundation wall and the basement wall. Either scenario is allowing moisture to collect on the inside of the foundation.
Changes in the level of the basement floor. Any spots that seem to dip where they didn't before, or floors that seem to slope are symptomatic of a larger problem with the concrete slab underneath the basement floor. A problem with the slab will affect the surrounding walls and footings since they're all connected.
Royal Work Waterproofing Corp
. is a company of dedicated
waterproofing experts
. We have many years of experience diagnosing foundation and basement problems all over Toronto and the GTA. As a company that specializes in foundation repairs, we will be able to quickly diagnose a serious problem with any building foundation and offer an effective, budget friendly and lasting solution. Our licensed experts use the latest technology and materials to diagnose and repair foundation cracks. Call us today for a no obligation inspection and estimate.