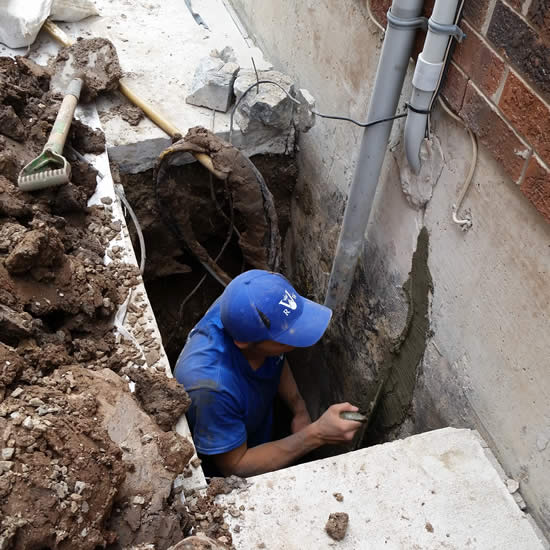 Wall Cracks
The two main types of wall cracks are due to shrinkage and settling. As the
concrete
in your foundation dries, shrinkage wall cracks are likely to occur. They typically don't require any remediation. Settling cracks can be much more serious as they may indicate foundation movement, improper reinforcement or hydrostatic pressure. Cracks can appear vertically, diagonally or horizontally and range in width from hairline to over 1/2″. Water leaks can occur and repairs can vary dependent on cause, size and location. Generally, we'll inject cracks from the inside with expanding polyurethane. It will seal the crack and still remain flexible for any further settling.
Hydrostatic Pressure
Over time, the constant outside pressure from moisture-saturated dirt pushing against the concrete causes horizontal or vertical cracks to form in the foundation or in the separation of blocks where the foundation and footing meet. Once cracks have formed, water from the outside will breach the concrete barrier and start seeping into your basement. Additionally, the continuing pressure from outside will force existing cracks to widen, allowing even more water and moisture to creep past the foundation into your basement. In these cases, our experts at Royal Work Corp. use a wet, glazed seal to reseal these joints and so prevent water seeping through.
Cove Joint
This is the area where the wall and floor meet inside your basement. As the soil around your home becomes saturated from groundwater and surface water from rain or when snow melts, it puts pressure against your foundation walls.
Hydrostatic pressure
can lead to bowing walls and water seepage through the cove joint.
Floor Cracks
Shrinkage and settling can also cause floor cracks but are rarely cause for concern. As the floor is added to provide a solid base and does not provide structural support for the home, the main concern from floor cracks would be is water infiltration is present when the water table rises. Some remedial action is available to reduce further cracking. In more serious cases you may require immediate
foundation repairs
to restore the strength of your home's structure.
Interior Drainage Systems
To reduce the hydrostatic pressure causing both the cove joint and floor cracks to leak, interior drain tile will need to be installed. We'll place a perforated pipe under the basement floor, wrapped in a fabric filtration "sock," and embedded in gravel to carry ground water to your sump basin.
Mold and Mildew
Regardless of whether you're using your basement as a functional living space, or an unfinished storage area, the problems of a leaking foundation and wet basement must be addressed as they compromise the overall structure and safety of your home. One of the common causes of structural problems resulting from water invasion is humidity. Humidity accelerates the growth of fungi and
mold
, which can affect the health of your family. In order to prevent humidity rising in new construction, we place the necessary vapor barriers where they are required at an early phase of building. In older homes, we'll focus on both controlling humidity levels and eliminating the food source by repairing leaks and water infiltration.
Leaking Sump Pump Pit
If your sump crock never seems to empty and your
sump pump
is constantly running, your pit may be damaged or incorrectly installed. New sump pits are made of seamless, high-strength polyethylene to prevent crushing and deterioration. In addition to collecting water, they are also designed to capture soil gases such as radon. A sealed lid prevents dangerous gases from seeping into the basement. Let our pros look at your sump pump pit to prevent premature pump burnout, possible flooding or an unhealthy build-up of soil gases.
Whatever your waterproofing needs, at Royal Work Corp. Waterproofing we have the experience, wealth of knowledge and friendly approach you need to tackle your problem to your complete satisfaction. If you are looking for some tips on
how to keep your home dry
, you can click the link to Bob Vila's helpful home waterproofing article.
Exterior Basement Waterproofing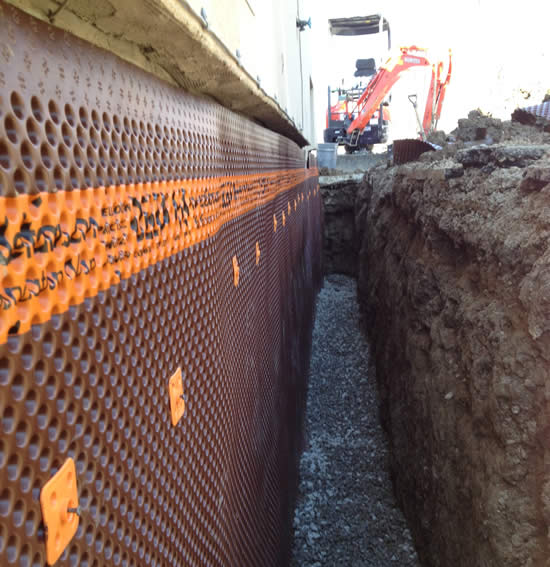 Waterproofing and
repairing the foundation from the outside
is usually the better option. An exterior job allows our staff to excavate the ground around your home and carefully inspect every inch of the concrete footings and walls for cracks and spots that are degraded.
Clogged Drain Pipes
Slow draining or totally blocked plumbing fixtures can be caused from clogged
drain pipes
. A build-up of grease, hair or foreign objects can be easily corrected. Exterior main drain problems can be more serious and require specialized equipment to repair.
The ground has to be excavated several feet down to expose the foundation footing. Then the foundation is washed with a high power spray, so any cracks in the concrete walls, or voids between the foundation footings and wall, are visible. We also check every inch of the drainage system and replace sections of the weeping tile that may be clogged or worn out. We fill in the cracks with a special epoxy and/or replace the membrane surrounding the foundation depending on the extent of the damage to the concrete.
External basement waterproofing process
is more costly and time consuming, but it's a permanent and most reliable fix. This type of external waterproofing will affect the appearance of your home from the outside while the work is being done, so some homeowners prefer a solution that's not disruptive to the surrounding yard and landscaping. For these homeowners, an interior basement waterproofing job offers another effective solution to end leaking.
Leaking Window Wells
If you have below-grade windows, you may also have window wells. In addition to allowing light and air into the basement, they also protect against water infiltration during heavy rains. A drain at the bottom of the well should be attached to the weeping tile system to move water away from the foundation. If the drain is blocked by debris or not draining properly, excess water can pour into your basement. Damaged or deteriorated window wells can also allow water to seep around a poorly installed window into your basement. Our specialists are trained to inspect window wells for structural integrity and effective water removal. If needed, Royal Work Corp. can replace your current window wells and add clear plastic covers to prevent debris from blocking the drains.
Interior Basement Waterproofing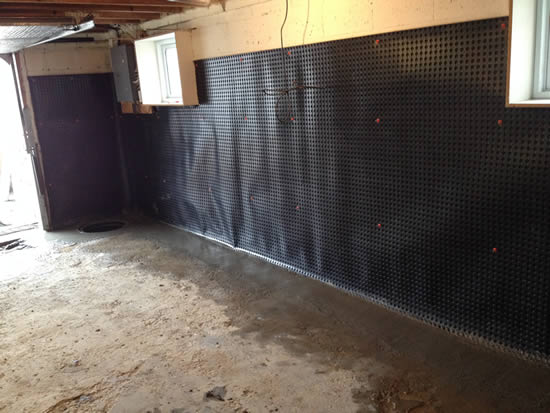 With interior basement waterproofing, all of the work is done from inside the basement and foundation. Some contractors refer to this type of work as "negative side waterproofing" as this type of job deals with handling water and moisture that has already entered the basement and redirecting it through installing a new inside drainage system that can include new drains and pipes as well as a good sump pump system. Interior waterproofing is usually less costly and less disruptive to the homeowner.
Even the most well constructed, watertight foundation faces a losing battle with the law of physics and the passing of time. Our customers in Toronto, and the surrounding Greater Toronto Area, know that Royal Work Corp. is a Waterproofing Company that cares about every detail. We specialize in diagnosing moisture and leak problems so we can offer the best solution for a watertight basement over the long term. Call us today for a
FREE estimate
, and no obligation evaluation at any time.