Royal Work Corp. Waterproofing, is proud of its reputation as one of Toronto's leading
waterproofing
and concrete contractors. Our licensed and bonded contractors are certified in all areas of waterproofing and renovation, including concrete work.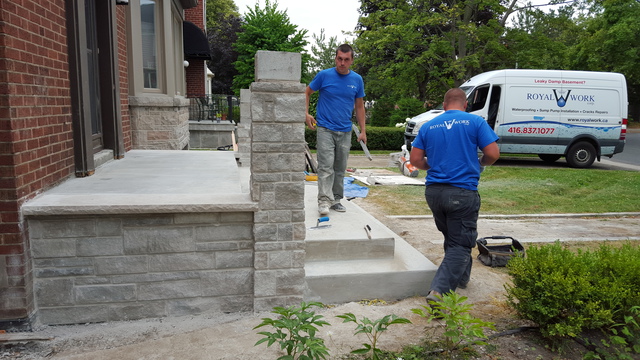 Our staff is experienced in laying new basement floors and stairs, building concrete walkways and a process called basement underpinning, which involves adding vertical space to unfinished basements to make them finished living areas.
Whether you're looking to add aesthetic appeal to your home, or you have some overdue concrete repair work that needs a professional touch, the contractors at Royal Work Corp. Waterproofing, can handle any job:
New concrete entrance or walkway
A problem spot for many homes is the outside area surrounding the foundation. If concrete walkways are uneven or deteriorating, puddles can quickly turn into lakes. Additionally, standing water can wear away concrete walkways and foundations over time, causing cracks and holes, which jeopardize the ability of the original foundation walls to keep water out. Perhaps your old concrete entrance is showing cracks or buckling in places. It may be time to dig it up and lay out a new walkway.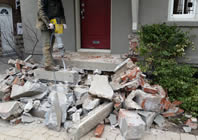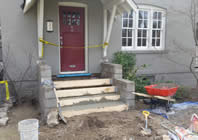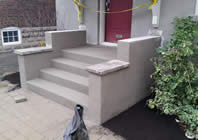 Installing a concrete walkway is a professional job because only an experienced contractor understands what to look for before digging – including electric lines and underground pipes. A durable walkway has to be measured precisely when the form is set up. Then the layer of gravel, which is placed underneath the concrete, has to be packed tightly to avoid shifting.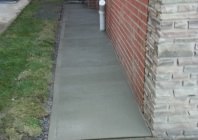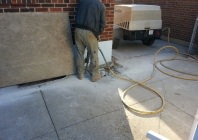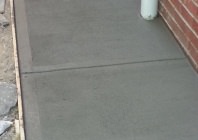 A sturdy concrete walkway that's professionally leveled and spread properly, will direct water away from your home keeping stress off of the foundation. If you want a separate side or back entrance added to your home, concrete is the best durable material for a new walkway.
Basement Walk Out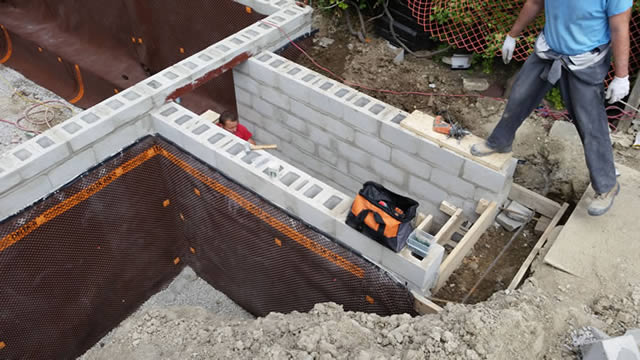 The ideal configuration for a walk out basement is a house that sits on a hillside or slope. However, Royal Work Corp. can add this feature as long as one side of the basement has an exposed wall. Many homeowners add this component to their lower level. By including full-size windows and a door to the outside, the room will be brightly lit with natural light and easily accessed from inside or out.
Excavation will be required to level the land and make way for the remainder of the foundation. Concrete footers are installed to support new walls. Wooden forms will provide a well-defined area for foundation walls and will include cutouts for doors. A doorway can be cut in an existing basement wall using a masonry saw. Construction begins after the concrete footers have dried sufficiently and the wooden forms have been removed. A sill plate and support beams will be needed to house the door frame. Next, the door is installed and weather-stripping is used to seal it off from weather damage and heat loss. A full-size window can be included and the contractor will also use a masonry saw to cut the opening. Several options are available for finishing the exterior area of a walk out basement. Homeowners can add landscaping, a deck, patio or walkway depending on the pitch of the property. For those who are limited to a small area for the walk out, a decorative wall can be constructed around a finished patio area. This will provide a whole new space for relaxation or entertaining.
Replace or add concrete stairs
A chipped or broken concrete stair is an accident waiting to happen. If your old concrete staircase is showing signs of wear and tear, it's time to consider replacing it. Concrete stairs require the experience of a professional because laying out the stairs requires a contractor with precise measuring tools and the know-how for the proper mixture of concrete.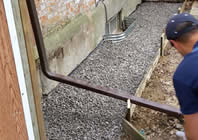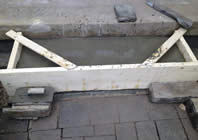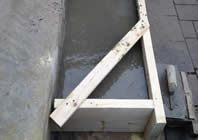 The form for the riser, vertical face and tread must be built to exact measurements before the concrete is poured. A professional knows how deep and wide the concrete steps should be for comfortable use and visual appeal. A well-planned concrete staircase with a high-grade cement mixture should last for the life of your home.
Underpinning: Finishing an unfinished basement
Perhaps one of the most worthwhile home improvements is transforming a crawl space or unfinished basement into a living space. It is a job for professionals since underpinning requires extensive knowledge of foundation walls, footings, excavation techniques and replacement of concrete floors and walls.
An experienced contractor must carefully inspect the surrounding property and foundation to determine excavation depth. Toronto Underpinning jobs that require re-routing plumbing lines, electric wires and laying a stable, durable concrete floor will need to pass all local building codes in the GTA, so it's important to hire a company that specializes in concrete work.
Whether you're looking to renovate part of your home for aesthetic appeal, or you need repairs involving the concrete on any part of your property, Royal Work Corp. Waterproofing is the GTA contractor that can handle any concrete job with lasting results.
We have earned our reputation as a company that does it right the first time. Our staff is standing by to assist you with questions, or to schedule a free inspection and estimate. So don't wait, call us today.