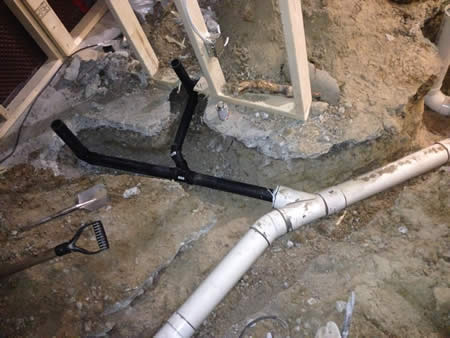 A clogged drain can cause more problems underground than many might care to think about. Clogged drains can lead to other problems (down the line) such as sewer problems, water damage, and pipe breaks. Keeping drains free from frequent clogs with preventative measures can help but if your drain does become clogged, Royal Work Corp. can help. Royal Work Corp. is a leading Toronto provider of drain cleaning and repair services. Blocked drains are one of the most problematic of plumbing problems and need to be fixed fast before your house gets flooded with overflowing water or – even worse – sewage.
At Royal Works Corp. we have fully equipped vans and
drain cleaning experts
who can come to your rescue you at any time of day or night. From apartments to shopping centers, schools, restaurants, pool drains and storm drains, our plumbing professionals can meet any residential or commercial drain problem with quality repair standards. Whether the issue is heavy grease build up, cast iron scale, root intrusion, beach sand or other objects clogging the pipe, we will assist you by utilizing a customized approach and the best professional solution. We also have the specialized power drills to cut through the offending root within the drain and can even make internal repairs to the drainage line without having to dig up your entire garden!
Our experts know how to work efficiently and effectively to minimize mess, unblock the offending drains and get the water – or sewage – flowing where it is meant to go and not on your floors.
PREVENTATIVE MEASURES
We can also advise on preventive actions you can take to stop such blockages or clogs from occurring again. For example:
Shower, bath and washroom drain cleaning & repair
A simple hair trap in your bath tub or shower is a very useful method to stop hairs getting stuck in the u-bend or trap and causing your bath water to drain slowly or not at all removing your drain issues. 
Kitchen drain repairs
Similarly, it is wisest to wipe out frying pans and other fatty utensils before washing up so that grease cannot accumulate and block you kitchen sink. Likewise, if you scrape all food particles into the garbage before washing up your kitchen sink will remain block-free for longer.
Residential Waste Water & Toilets
Toilets usually only get blocked if you try to flush inappropriate items through the s-bend. It is best to dispose of anything other than toilet tissue by wrapping it and placing it in a garbage bin, rather than trying to flush it away – particularly disposable diapers and other similar hard-to-dissolve materials.
Sewer line and Regular drain cleaning & repair
Problems with outdoor drains and blocked sewers can take longer to resolve and may require use of our specialized equipment. Often the culprit is roots from long-established trees or bushes that break into sewers and drainage systems causing waste waters to escape and flood the surrounding soil, often accompanied by unpleasant smells.
Storm and Regular drain cleaning & repair
We use high pressure water jetting to clear heavily clogged areas as well as to locate possible troubled areas. We use video camera inspections to view problems that may be located either deep or close to your drain pipes or draining systems in order to get a clear idea of the exact problem and how to fix it.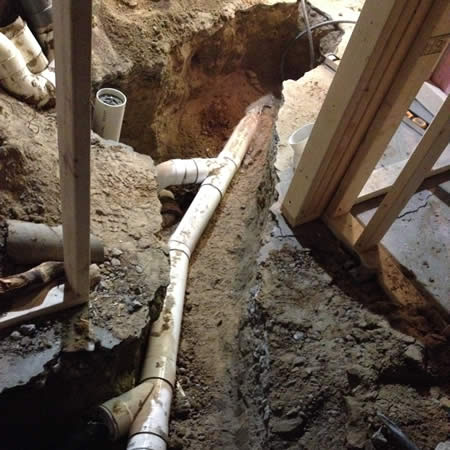 DRAINS & SEWERS: MAINTENANCE TIPS
Drains:
Keeping a drain clear isn't something most people give much thought to until it begins to act up with a major clog, start to back up, or dysfunction. Grease, excess hair, drying lint, food scraps and detergents from the ordinary Ontario family can become too much for most standard residential plumbing and drainage systems to handle. They can accumulate over time and cause major issues, such as clogged sinks and tubs or any types of drains. In addition, rusted drain pipes, leaks, and flooding are all possible outcomes of consistently clogged drains.
Water damage can be serious if a little leak remains unchecked for a lengthy period of time. It's easy for mould, mildew, and rot to hide under cabinets and in the cracks between the walls of your house, which can lead to health problems, structural damage, and expensive repairs. Drainage systems for commercial buildings are more robustly constructed than those for residential properties, but repairs can be needed there too. Restaurant owners are well aware of the dangers of clogging drains with oil and food waste from a busy kitchen, which may lead to unchecked back-ups, sanitation issues or all kinds of blockages in drains.
Sewers
: Your sewer system is an integral part of your home or business drainage network. Blocked sewers can be caused by a variety of factors, including too much toilet paper, years of neglect, cracked tiles, and even tree roots. These scenarios are often more time consuming and frustrating than the average clogged drain. That's because if your sewers go down, your entire drainage system is at jeopardy. In commercial buildings, where a backed-up sewage might result in lost revenue, this can be very expensive to fix so Regular sewer cleaning to avoid a sewer repair is must. 
HOW TO IDENTIFY A SEWAGE ISSUE
Sewer-related blockages are stubborn blockages and can damage can go undetected for a long time, especially by first-time Canadian homeowners. Delays in repairs might cause greater damage and spend more money in the long run. If you notice any of these symptoms, you may have a plumbing problem.
Here are some warning signs:
Overflowing toilets
Visibale water around plumbing
Gurgling sounds from a toilet or drain
Foul odours from floor drains
CONTACT ROYAL WORK FOR DRAIN REPAIRS
Whatever your drainage problem, big or small, residential or commercial, our licensed, bonded and insured professionals will be there fast to find a solution
Contact us
at any time of day or night, with a collective 25 years of drain and sewer experience, the Royal Work Corp. company is your friend in times of serious plumbing needs.