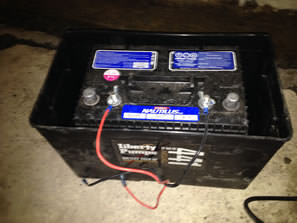 Battery Backup Installation for Sump Pumps in Toronto
A Basement sump pump is frequently the only thing standing between a dry basement and a basement that's been flooded. A basement sump pump is a simple, yet powerful, tool in a total basement waterproofing package. However, without a battery backup, your sump pump running on an electric plug may not be enough. That is why you should think about a battery backup installation for your sump pump in Toronto.
The sole purpose of sump pumps is to keep the basement dry. The
technology behind a standard sump pump
is simple: A flotation device attached to the pump lets the pump motor know when the water level in the sump pit rises above a certain level. The motor kicks at that point (water level) and the pump starts pumping the water from the pit into a connected outlet pipe and away from the basement. These keeps the home basement dry and safe from flooding and water damage.
Homeowners without a backup battery powered sump pump in their sump pit are risking extensive damage to their basements and homes. We've heard horror stories from many Toronto and GTA customers who are forced to call us after it's too late. Their sump pump has failed, and their basement has flooded during a power outage. At
Royal Work Waterproofing, Corp
., we've been installing battery powered sump pumps for our Toronto customers for many years. We also offer
professional sump pump installation services
.
While the technology is fairly simple and it all runs on an electric power source, the trouble begins if the power source goes down.
Power outages
are not uncommon in most towns, and even large cities like Toronto can experience intermittent power outages or
brown outs
during a rainstorm or snowstorm. Once the power source is down, the flotation device on the sump pump can no longer communicate with the motor and the pump stops – even while water is rising to dangerous levels in the sump pit.
BATTERY BACKUP INSTALLATION PROCESS
Installing a battery backup unit is an excellent insurance in case the electric goes out. When you consider the costs of having to fix flood damage to your foundation, basement and drainage system – and in a worst-case scenario having to replace walls and furniture – the short-term cost of installing a heavy-duty battery is well worth the peace of mind.
The sump pump is connected to a heavy-duty battery, enclosed in a waterproof casing. When the flotation device on the backup battery attached to the sump pump detects the water rising above a level that's normal – the battery starts up and supplies backup power to the sump pump. The sump pump continues pumping water out of the sump pit. A simple precaution like a battery backup can avert total disaster and a flooded basement.
The
waterproofing professionals
at Royal Work Waterproofing Corp. have helped thousands of GTA customers prevent floods with sump pump battery backup installations. Our licensed staff understands the intricacies of a proper installation. Don't leave the safety of your home to chance. Call us today for a free consultation and we can tell you if a battery backup for your sump pump is the right choice for your home.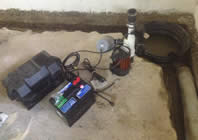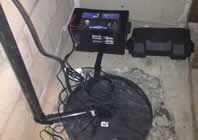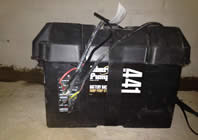 DOES BATTERY TYPE MATTER?
Backup pump batteries come in a variety of shapes and sizes, so it's important to know which one to go with. In addition to lead-acid batteries, also referred to as "wet cell" batteries, there are "maintenance-free" deep-cycle batteries that are commonly sold as marine or solar batteries. In automobiles, wet-cell batteries are the most frequent.
To protect the lead cells from drying up and causing early damage, you will need to add distilled water to these batteries on a regular basis. It is possible to set and forget maintenance-free batteries. Also think about quality! The sump pump battery backup system can be reduced in cost by using a regular lead-acid vehicle battery. For a short length of time, these batteries can offer a significant quantity of power. When it comes to sump pump backups, the more expensive the battery is, the better it is, as this usually indicates a greater run time. The cost depends on the type of pump installed.
Final Words
Homeowners without a backup battery powered primary pump in their sump pit are risking extensive damage to their basements and homes. We've have all heard horror stories from family and friends who are forced to call us after it's too late. They found out the hard way that sump pump failure can happen and their basements flooded during a power outage.At Royal Work Waterproofing, Corp., we've been installing battery-powered sump pumps for our Toronto customers for years. Book an appointment with the trusted professional at Royal Work basement waterproofing company…it could save you thousands of dollars in damages.